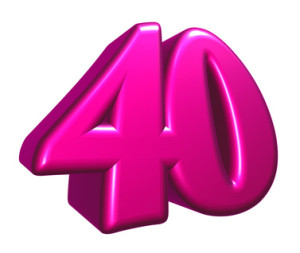 Press stories about infertility often recite facts to show that waiting too long can dramatically affect a couple's chances of getting pregnant.  And of course it's true, nature is unrelenting – egg numbers and quality undoubtedly reduce with age. It can all seem very dispiriting and gloomy, but is it an over-hyped and skewed picture?
Individual circumstances will vary, and in general the earlier you think about having a baby the better chance you have of conceiving.  But what is the reality?
Well here are some facts that I've  researched about fertility:
The number of British women over 40 who have given birth has doubled in the last 15 years.  As has the number of British women over 45 who have given birth.
By age 40, 33% of couples have problems conceiving.  (That means 67% of couples over 40 don't have problems conceiving).
Humans have a 25% chance of conceiving each month and most couples achieve a pregnancy within 12-18 months.   (If you're over 35 you should only wait 6 months before consulting a doctor).
10-15% of patients seeking fertility treatment have been diagnosed with unexplained infertility.
Around 31,000 cycles of IVF are completed every year in the UK, 25% of which are done within the NHS and 75% of which are privately.
10,000 IVF babies are born each year in the UK and since 1978, 70,000 IVF babies have been born in the UK, and 3,000,000 worldwide.
When I did a search of "mums over 40″, I found a string on netmums.com asking how many new mums over 40 there were.  I stopped counting after 23 comments from mums aged 38 to 45.  And another string had over 1,000 posts.
And the celebrities like to get in on the act too: a bit of research unearthed the following selection of a long list of celebrity mums over 40:
Susan Sarandon: first child born at age 43, second child at age 46.
Geena Davis: first child born at age 46, second child at age 48..
Jane Seymour

: twins born at age 44.

Iman

: second child born at age 45

Kelly Preston

: third child born at age 48
Other celebrity mums over 40 include: Julianne Moore, Halle Berry, Tina Fey, Jennifer Connelly, Madonna, Mariah Carey, Jane Krakowski, Nicole Kidman, Marcia Cross, Celine Dion.
Of course, celebrity mums have no problem paying for treatment and it's likely that the older the mum, the more likely the conception has been assisted (and particularly through egg donation) – I just wanted to highlight the fact that there is still hope for women over 35 who want to get pregnant.  And what you focus on grows, so I'd like to suggest that it's more useful to focus on the positives rather than the doom and gloom, because at the very least, it's likely to cause you to feel better.
Now, don't get me wrong, I'm not suggesting that it's not more difficult to get pregnant (either naturally or assisted) as you get older, but what I am saying is that bad new sells and the more sensational the press can make it the better, because they sell more copies.
And if all you hear are negative stories, then it makes your expectations and beliefs more negative.  So perhaps you may want to begin to seek out all the positive results that older women have in getting pregnant.  Get a scrap book recording all the instances of women getting pregnant and having babies against all the odds, because the more exceptions there are to the rule, the more likely you could be that exception.